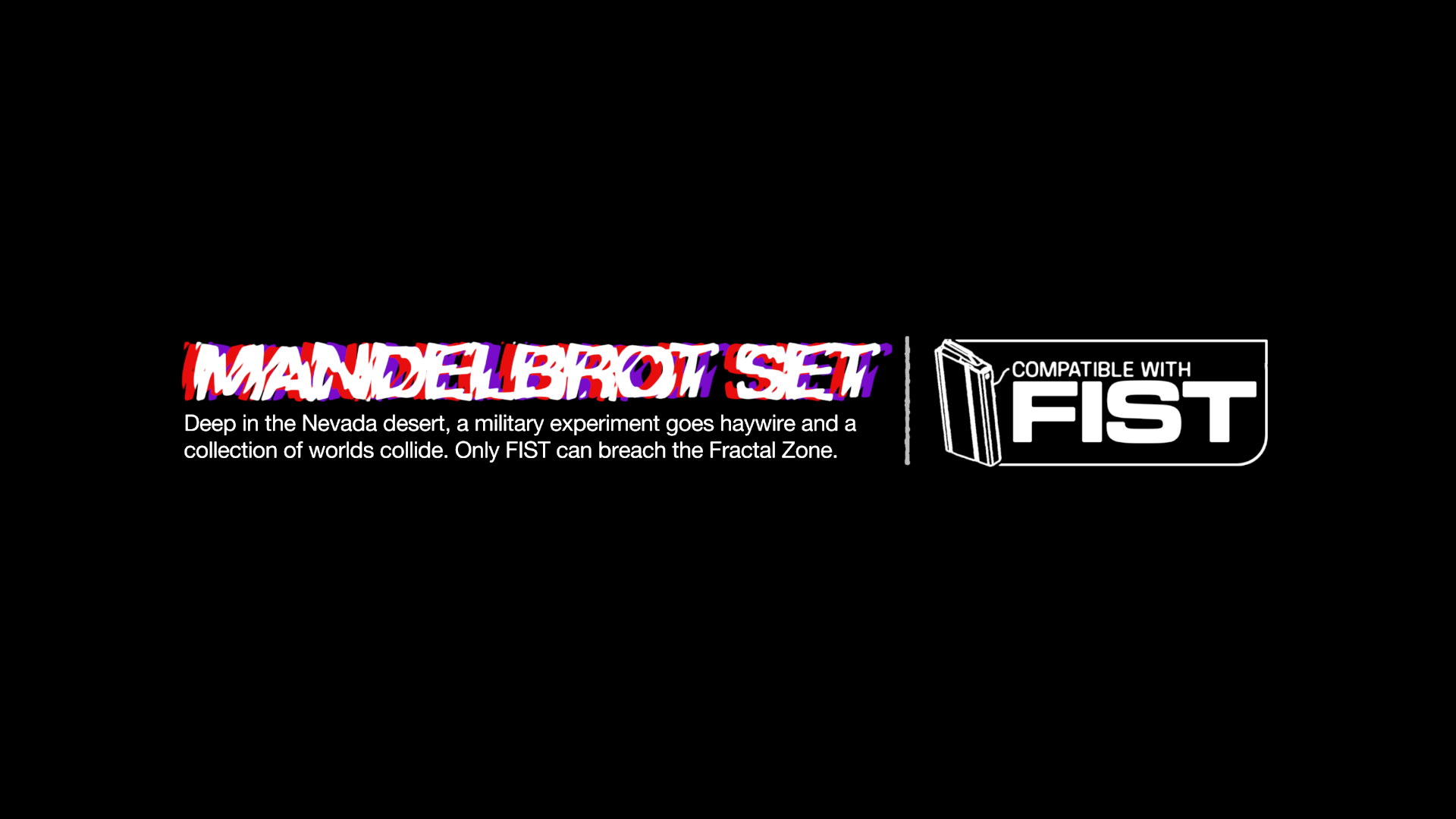 MANDELBROT SET
A downloadable campaign kit
[KZRRT] -is Dr. Onyemaechi Okonkwo, calling from- from Nevada, our Nevada, from our world, where the Allies won the war, where there's no hole in the Moon, where Ancient Rome fell - please, if you can hear me, we need help. My coworkers and I - there are seven of us left alive - we were caught in an accident. The Transdimensional Resonator - my God, how could we have ever known it'd end up like this- [KZRRT]
[KZRRT] -didn't know who else to call. The Army wants to come in here and stabilize the thing, quarantine us, kill anyone who leaves - damned fools, prattling on about the "endless tactical applications of alternative histories". We need to be evacuated, and then we need to destroy it. It isn't behaving like a machine- [KZRRT]
[KZRRT] -seven of us. Okonkwo, Janssen, Wong, Walsh, de Fatima, Lewandowski, and Crane. We can pay. We can pay handsomely, if we all chip in - please, we need help. We need FIST. [KZRRRRRT]
MANDELBROT SET is a campaign kit for FIST, designed to be used alongside the core rules. This campaign kit revolves around a scientific disaster: when a military experiment goes wrong, a sizable area of rural Nevada is turned into a shifting amalgamation of parallel universes dubbed the Fractal Zone. The project's lead scientist, trapped within his own experiment, has contacted FIST for help. The players have three objectives: infiltrate the Fractal Zone, rescue Doctor Okonkwo from the Facility at its center, and destroy the Transdimensional Resonator before the Army makes matters worse in a misguided attempt to control the fallout.
This campaign kit provides maps, locations, characters, enemies, traits, and items your play group can use to assemble their own version of Mandelbrot Set. This book is also designed with reusability in mind, using the multiverse as a vehicle to cover a wide array of stats and situations for running your own FIST campaigns.
PERILOUS HEXCRAWLING - Use twenty distinct locations, from haunted Spanish missions to Atlantean tactical relay points, to construct multiple versions of the Fractal Zone. Consult the Corruption Meter as you navigate a dangerous hexmap locale which changes each time you play.
THRILLING INFILTRATION - Breach Facility Zero and explore an ever-shifting menagerie of opportunities and obstacles, including the convenient Mercenary Dispensary vending machine and the abominable Doctor Phalange. Once you're inside, use the Fractal Combatant tables to summon horrible mutliversal chimeras and pit them against your players.
COLORFUL CHARACTERS - Rescue six survivors from the Facility: mad scientists, uncooperative soldiers, and a particularly unlucky janitor. Your primary target is Doctor Okonkwo, who may have been replaced by a post-apocalyptic wizard or modern-day Roman by the time you get there.
MAGNIFICENT MECHANICS - Fall victim to six new Fractal Traits, nightmarish status effects/superpowers which only exist inside the Zone. Manage NPCs who CHOKE when exposed to mortal danger, each with a unique reaction to no-win situations. Track down all ten Collectibles, unique anomalous artifacts which only appear in response to specific narrative triggers. Keep it all together with a Campaign Sheet, a character sheet for the story itself.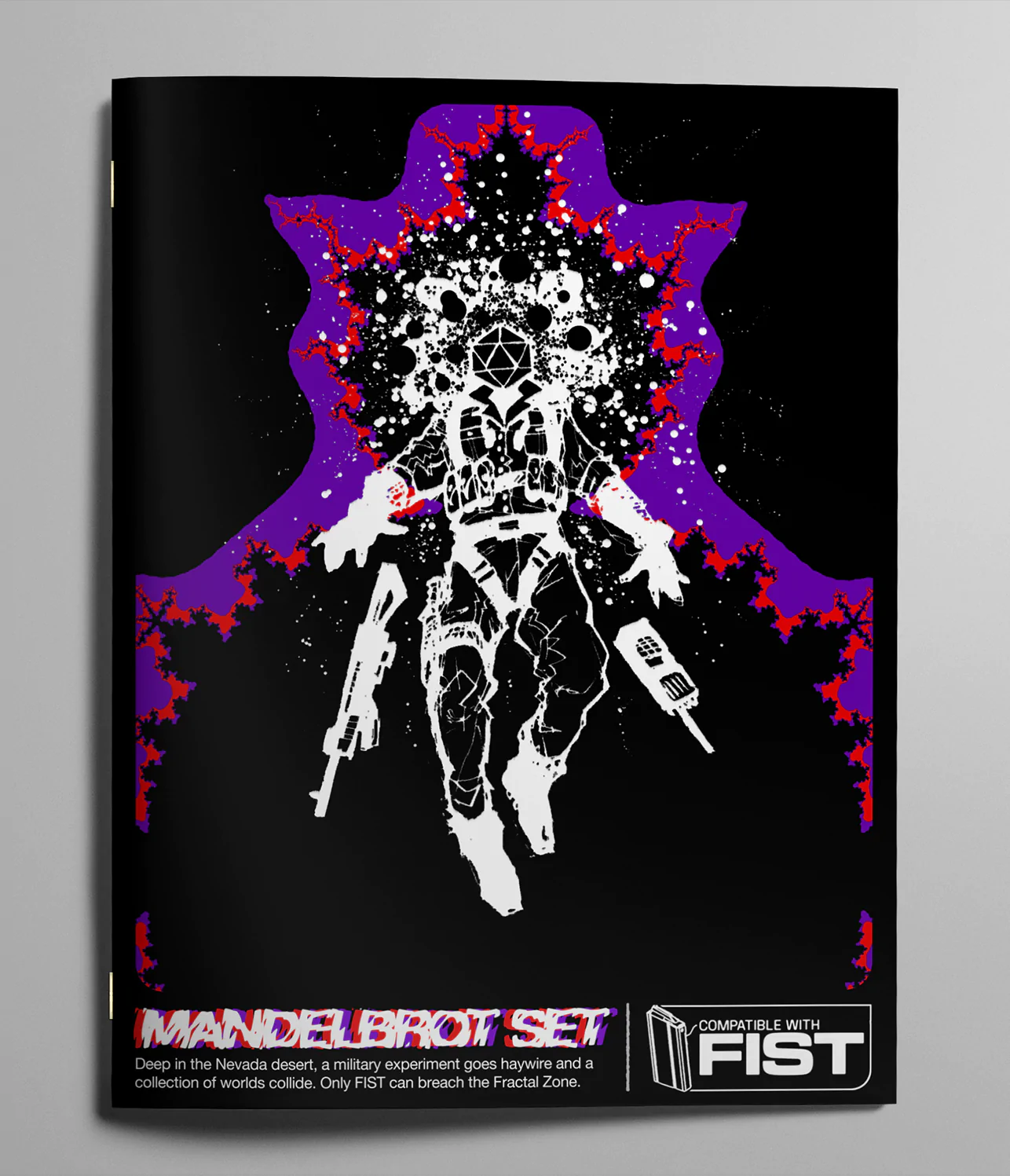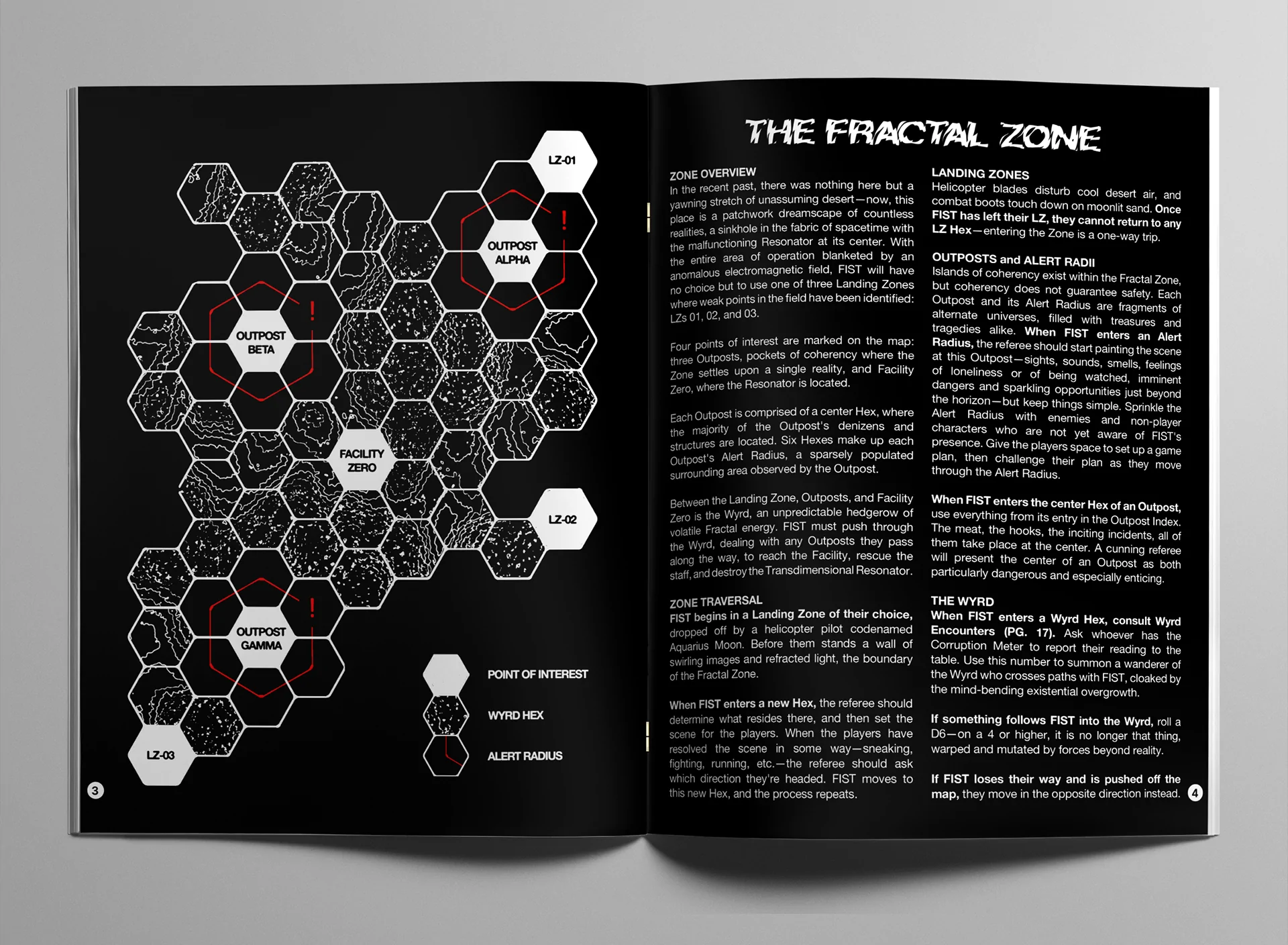 Physical copies of MANDELBROT SET are available at Exalted Funeral!
Purchase
In order to download this campaign kit you must purchase it at or above the minimum price of $10 USD. You will get access to the following files:
MANDELBROT SET (Pages).pdf
36 MB
MANDELBROT SET (Spreads).pdf
39 MB
MANDELBROT SET Mission Materials (PNGs).zip
1 MB
Community Copies
Support this campaign kit at or above a special price point to receive something exclusive.
Donate a Community Copy
Purchasing MANDELBROT SET for double the price donates a free community copy of the module for others to claim. Please note: your donation may not show up immediately since the community copies pool must be updated manually.
Community Copies
Community copies are available for free to anyone who can't afford to buy the campaign kit.
Comments
Log in with itch.io to leave a comment.
Hi, its possible to have a community copies?
we'll def add some more but also this will be free to download for the duration of our kickstarter (8/30/23 - 9/30/23!)
are there any more community copies to be added cuz I have no money to spend on this PLEASE I love F.I.S.T
This looks really good! Unfortunately I won't be able to play it with no community copies, but I wanted to share my love anyway - always appreciate a cool looking hex crawl!
Oh shit adding some then!!
Got one! You are awesome, thank you!
If you want to see a similar reality-hopping FIST adventure in action, check out this charity stream by D4!
any chance for a physical print in the future? love it!
it's been in the works at Exalted Funeral for a while now, but they've been pretty swamped and haven't been dropping new releases. hopefully it's coming soon though!!
hey there - just heard that the current ETA is 8/3, barring any delays!
A review of MANDELBROT SET by Brandoff!