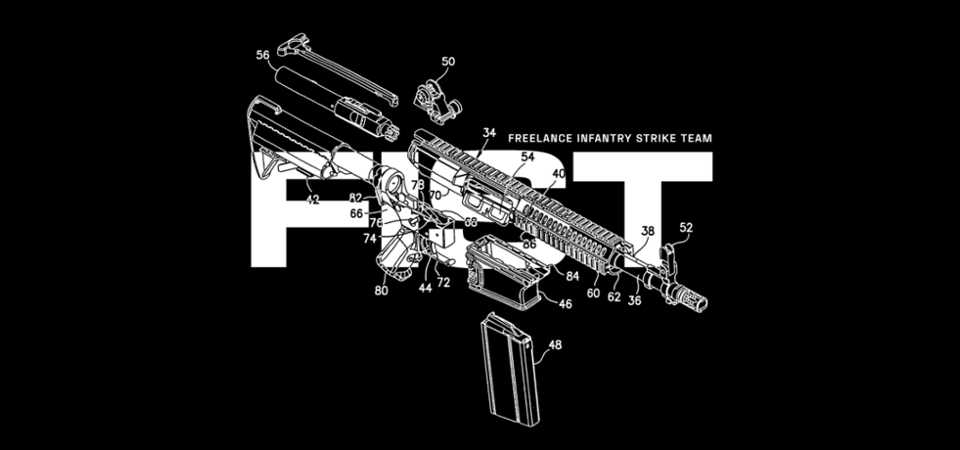 FIST
Now: the second half of the twentieth century. The powers that be are locked in a tense nuclear standoff, and the fate of the world hangs in the balance. Away from the watchful eye of national intelligence, a cadre of exceptional misfits is assembled. These soldiers of fortune are uniquely equipped for covert and unusual operations.
In these uncertain times, the line between science and superstition has been broken, and the new arms race is only beginning. You, or your associates, may be faced with weapons, tactics, and actors unlike any you have ever seen. For a price, those exceptional misfits can help.
When you're all out of options, it's time to call FIST.
FIST is a tabletop roleplaying game for one referee and two to six players. It draws heavily from Chris P. Wolf and Olivia Gulin's Offworlders and John Harper's World of Dungeons, as well as being inspired by Metal Gear Solid, The A-Team, and Doom Patrol. In the game, you belong to a legendary rogue mercenary unit called FIST. You are a soldier of fortune who doesn't fit into modern society. You are one of the little guys, caught up in the death and destruction of pointless proxy wars and oppressive establishments. You may also be someone who can turn into a ghost or control bees with your mind. The paranormal secrets of the Cold War are your bread and butter, and you fight for your life to make ends meet alongside others like you.
PARANORMAL MERCENARIES - Use the modular traits system to construct unique and fully-equipped characters in a matter of seconds. Play as a telekinetic alien, a mutant sniper, or a cyborg ninja.
BRUTAL ACTION - Experience fast, fluid stunts and combat with the tried-and-true 2D6 mixed-success resolution roll. Play with a rules-light system which deepens organically as characters advance, offering intriguing choices and mechanics but never interfering with the action.
TACTICAL OPERATIONS - Plan and execute Cold War espionage missions using enemy, weapon, and mod templates in tandem with the randomized scenario generator. Structure campaigns around a levelling system which uses open-ended character development in place of XP and loot.
REVISED AND EXPANDED - Create stranger and more powerful mercs than ever before with 4,950 possible starting character builds. With revised content from CYCLOPS INTEL FILE 01 plus 47 brand new traits, portray kleptomaniac rock stars, genius detectives, and tentacled freaks who have Death on speed-dial. Enjoy a tighter, more randomized, more lethal game inspired by the best of the OSR.

"FIST is legitimately one of the most fun things I've brought to my table. It's PbtA that plays like OSR, and it's Metal Gear by way of Hellboy."
- Richard Kelly, Sprinting Owl
"The ultimate misfit mashup, you create a ragtag team of fighters who operate on a will-call basis, a sci-fi Suicide Squad of idiots with big guns and psionic powers."
- Linda H. Codega, tor.com
"FIST is beautiful in its elegance... if you're into the supernatural, paranormal military genre, especially weird Cold War era stuff, FIST is an absolute must-buy."
- Spencer Campbell, Gila RPGs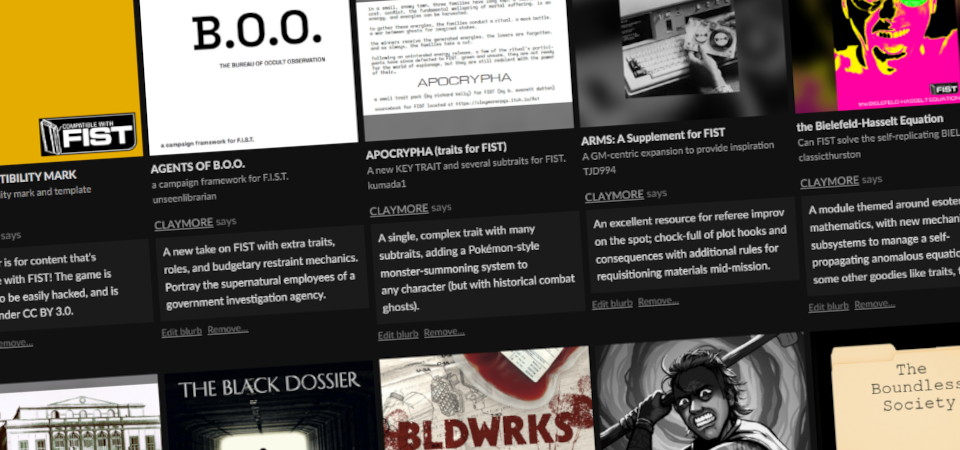 FIST is easy to hack and built for creative homebrewing. You can check out a library of 70+ (and growing!) FIST-compatible zines, pamphlets, modules, and more made by fans of the game right here.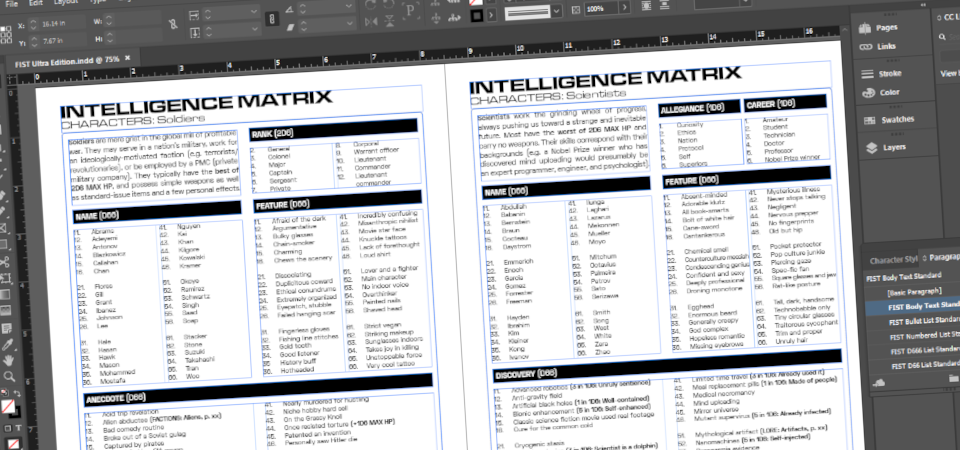 FIST: Ultra Edition is currently in active development! This isn't an early-access situation: FIST has already been out in fully-playable and fully-hackable form since 2020. There's a lot we left out of that version, though, so we're working on a bigger, better, professional-quality FIST. When Ultra Edition comes out, it'll be a free and backward-compatible upgrade to this game (we won't make you buy it again). In the meantime, you'll receive periodic new builds of Ultra and be able to participate in development through our Discord, itch comments, or any other means of contacting us with feedback.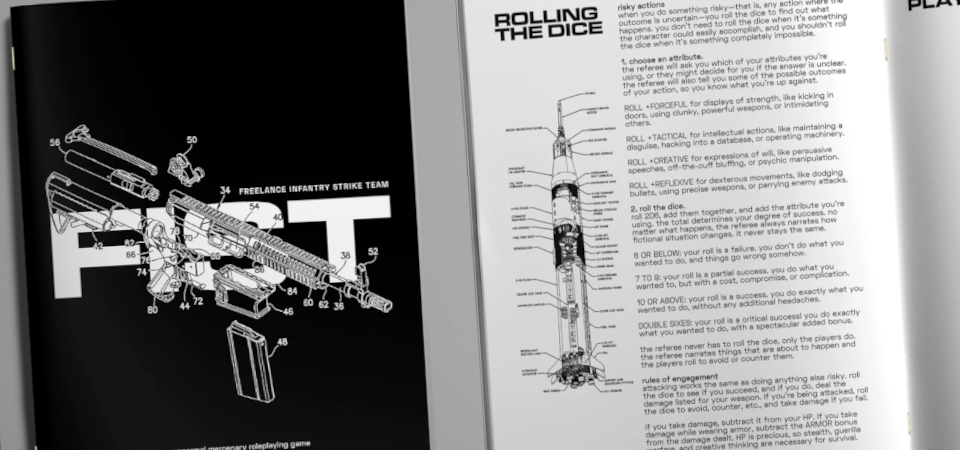 If you like your books physical, FIST is available in print from Exalted Funeral. FIST is also available digitally on DriveThruRPG, and will hopefully be available as a Print-on-Demand DriveThru title soon.


Check out our lowkey FIST Discord server for fresh homebrew, inspiration for the missions, aesthetics, and worldbuilding of your game, play-by-post missions, chats about other games and hobbies, and more!
Purchase
In order to download this game you must purchase it at or above the minimum price of $10 USD. You will get access to the following files:
FIST Ultra Edition (Pre-Pre-Alpha).zip
1 MB
Community Copies
Support this game at or above a special price point to receive something exclusive.
Community Copies
Community copies are available for free to anyone who can't afford to buy the game.
Donate a Community Copy
Purchasing FIST for double the price donates a free community copy of the game for others to claim. Please note: your donation may not show up immediately since the community copies pool must be updated manually.