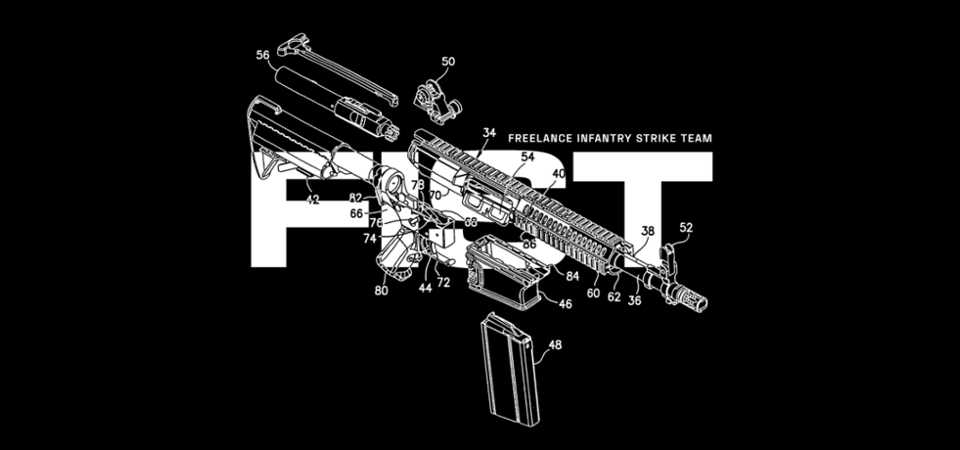 FIST: Ultra Edition
Now: the second half of the twentieth century. The powers that be are locked in a tense nuclear standoff, and the fate of the world hangs in the balance. Away from the watchful eye of national intelligence, a cadre of exceptional misfits is assembled. These soldiers of fortune are uniquely equipped for covert and unusual operations.
In these uncertain times, the line between science and superstition has been broken, and the new arms race is only beginning. You, or your associates, may be faced with weapons, tactics, and actors unlike any you have ever seen. For a price, those exceptional misfits can help.
When you're all out of options, it's time to call FIST.
FIST: Ultra Edition is a tabletop roleplaying game about paranormal mercenaries doing the tough jobs no one else can. In the game, you belong to a legendary rogue mercenary unit called FIST. You are a soldier of fortune who doesn't fit into modern society. You are a disposable gun for hire, caught up in the death and destruction of pointless proxy wars and oppressive establishments. You may also be someone who can turn into a ghost or control bees with your mind.
The paranormal secrets of the Cold War are your bread and butter, and you fight for your life to make ends meet alongside others like you: stopping disastrous science experiments, infiltrating occult compounds, neutralizing eldritch horrors—all in a day's work for FIST. Players are typically outnumbered, easily killed, and disliked or hunted by most sources of authority. You don't have tons of money and gadgets backing you up, just your wits and a few tools. War is hell, and you're one of the little guys.
FIST is inspired by Metal Gear Solid, The A-Team, and Doom Patrol. It's mechanically descended from John Harper's World of Dungeons, Ben Milton's Maze Rats, and Offworlders, by Chris P. Wolf and Olivia Gulin.
PARANORMAL MERCENARIES: Use the modular traits system to construct unique and fully-equipped characters in seconds. Play as a telekinetic alien, a mutant sniper, or a cyborg ninja.
BRUTAL ACTION: Experience fast, fluid stunts and combat with partial successes. Play with a simple, dynamic system which deepens organically as characters advance, offering intriguing choices and mechanics but never interfering with the action.
TACTICAL OPERATIONS: Plan and execute Cold War espionage missions using enemy, weapon, and mod templates in tandem with the Intelligence Matrix, a massive repository of random tables, inspirational tools, and premade content. Structure campaigns around a levelling system which uses open-ended character development in place of XP and loot, and customize your game with a wide array of optional mechanics.
ULTRA EDITION: Create stranger and more powerful mercs than ever before with 23,220 possible starting character builds. With revised content from FIST Classic plus 116 brand new traits (and 36 character roles!) portray bullet-time wizards, cannibalistic weaponsmiths, and astronaut werewolves. Enjoy the final form of FIST, a genre-blending mélange of old- and new-school design.

"FIST is legitimately one of the most fun things I've brought to my table. It's PbtA that plays like OSR, and it's Metal Gear by way of Hellboy."
- Richard Kelly, Sprinting Owl
"FIST is such a thrill ride. The sheer depth of possible characters, the joy of the random results, the added chaos the WAR DICE add into the mix. It's nothing less than explosive."
- Jeff Stormer, Party of One
"FIST is a game of minimum prep and maximum action. Every character feels unique after just a few minutes of setup, and every session creates a story that's never been told before.

This game knows exactly how to get your players excited, your characters emotional, and your loadout ready to rock and roll.

"
- Caleb Zane Huett, lead designer of Triangle Agency
"FIST has changed the way I look at RPGs. With FIST, you can sit down, roll some dice, and have a fun, flavorful character in five minutes flat. You might get them killed five minutes later, but if so? Rinse, repeat, and you're back in the game. Add in the clever mechanics for freeform tactical play,

a GM toolkit with enough tables to seat an army,

and prose so evocative that it's a joy just to read the book, and this is a must-have game."
- Jess Levine, I Have the High Ground, going rogue 2e
"I have transported people to the moon through ancient temples, I have fought off armies of alien bugs using mashed potatoes, I have laid down suppressing fire on Russian soldiers while my teammate defused a bomb. FIST is a marvel of modern design that pushes its core mechanics into bold new places (sometimes at gunpoint). It's a blast to run, and a thrill to play."
- Tony from Plus One
"FIST is as enjoyable to read as it is to play, with immersive text and a splash of a casual banter vibe that sets the mood as you learn, and puts you just in the right headspace to play a rogue little outcast."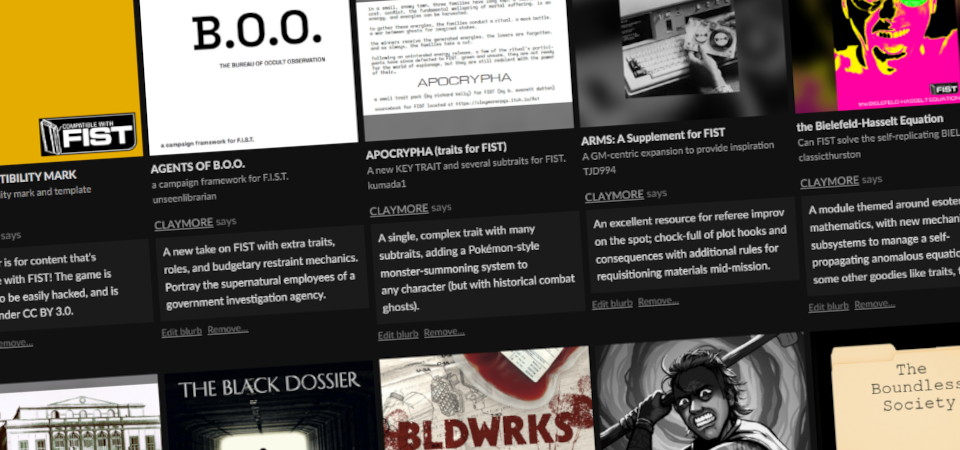 FIST is easy to hack and built for creative homebrewing. You can check out a library of 150+ (and growing!) FIST-compatible zines, pamphlets, modules, and more made by fans of the game right here.

Check out our lowkey FIST Discord server for fresh homebrew, inspiration for the missions, aesthetics, and worldbuilding of your game, play-by-post missions, chats about other games and hobbies, and more!
Purchase
In order to download this game you must purchase it at or above the minimum price of $20 USD. You will get access to the following files:
FIST Ultra Edition (Retail Version).pdf
48 MB
FIST Ultra Edition (Retail Version, Spreads).pdf
47 MB
FIST Ultra Edition (Printable Character Sheet).pdf
175 kB
FIST Ultra Edition (Fillable Character Sheet).pdf
205 kB
Community Copies
Support this game at or above a special price point to receive something exclusive.
Community Copies
Community copies are available for free to anyone who can't afford to buy the game.
Donate a Community Copy
Purchasing FIST for double the price donates a free community copy of the game for others to claim. Please note: your donation may not show up immediately since the community copies pool must be updated manually.