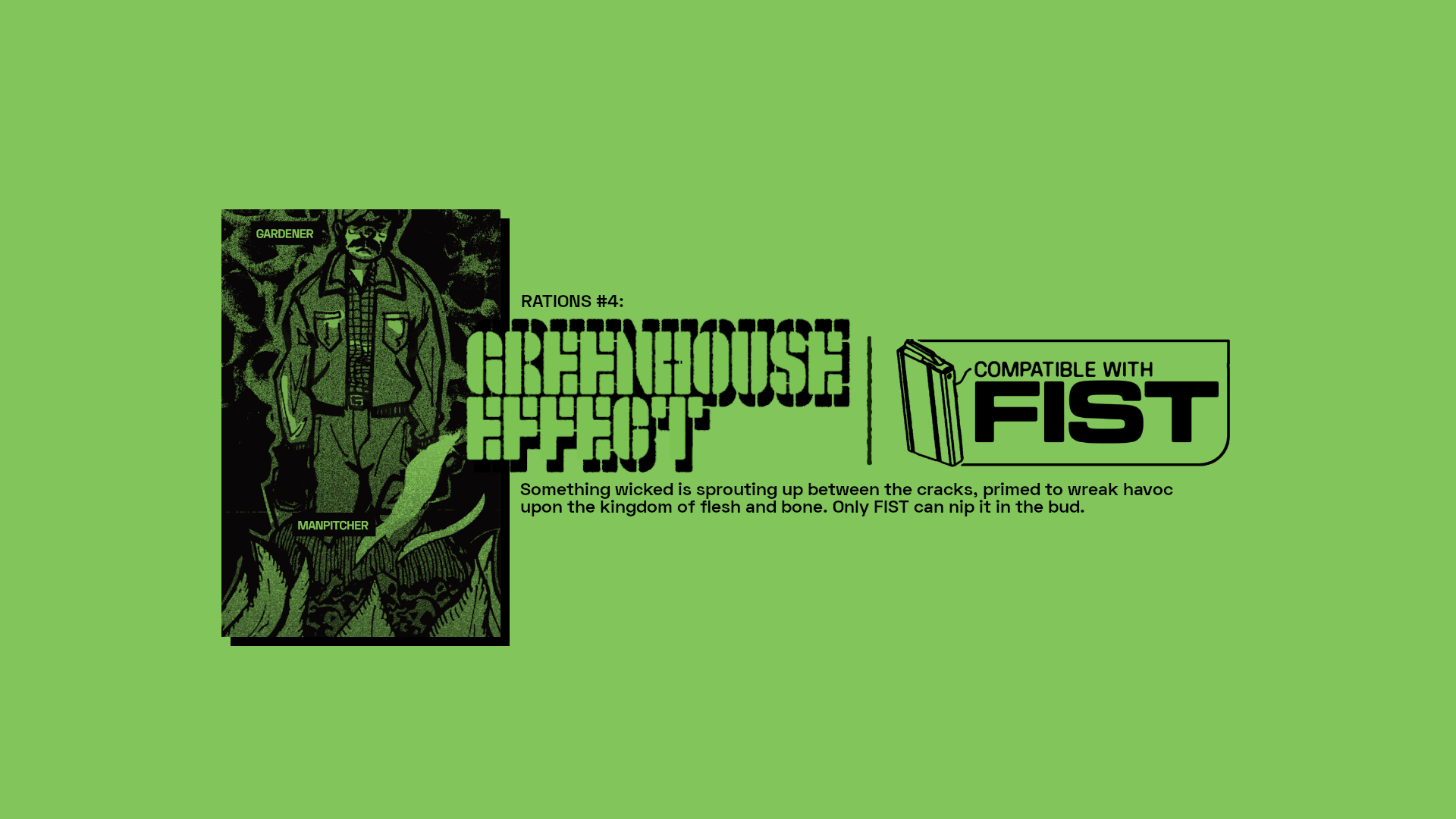 RATIONS #4: GREENHOUSE EFFECT
A downloadable faction pamphlet
[STATIC]—couldn't tell you where the first plant came from, hand to God. Maybe it just showed up one day, the most innocuous of visitors. Maybe every house has a plant like this, you just can't see it 'til something gets triggered in your brain and you take notice. Maybe I bought it and forgot. Everything feels a little bit out of focus these days, like I'm living in my own slice of time, suspended all green and sticky in the web of continuity—[MUFFLED CHITTERING, FEEDBACK WHINE] [STATIC]—wanted me to water it. It begged me for it, pleading, in its way. Who was I to say no? [AUDIO ENDS]
GREENHOUSE EFFECT is a micro-bestiary pamphlet for FIST about a rapidly flourishing faction of evil, intelligent flora. From the twisted will of a single, anomalous potted plant, an entire city of verdant thralls could be born; perhaps this "innocuous visitor" has already found its way inside your home, your operating base, your terra cotta planters.
What you may find growing in your garden:
FREAKY FLORA - Eleven monsters penned by the always-incredible Ripley Caldwell can be thrown at your players at will or randomly spawned by a Gardener. You'll encounter duplicitous weeds, bubbling vats of human flesh that are cast across intruders, and swarming roses that burst to cover their enemies in a shower of blood.
FRESH TRAITS - When your operatives fall under the influence of the Malignant Flora, you'll have traits to match. Take GARDENER and become an aimless plant-thrall with pliant green skin, or gain MARIONETTE and become the puppet of an amicable tree. If you prepare the correct poultice, you can rid yourself of these alien effects.
TWO MODES - You can use the enemies in the pamphlet to create a scenario where the mission area has already become infested (e.g. a portal to Hell, a jungle poisoned by toxic waste, the Fractal Zone), OR you can drop this pamphlet into any unrelated mission where the players might reasonably encounter a normal potted plant, and the now-anomalous Potted Plant will slowly, surely spread its influence across the game world through its Gardeners.
Download
Click download now to get access to the following files:
GREENHOUSE EFFECT (Digital).pdf
1 MB
GREENHOUSE EFFECT (Printer Friendly).pdf
1 MB
GREENHOUSE EFFECT (Panels).pdf
1 MB